[LDN] Sat 20th June - The Centrifuge presents FUNCKARMA Live / CANE DJ Set @ Ginglik
The Dutch masters of electronica, bass, IDM and electro hop over for an exlusive London show!
http://www.facebook.com/event.php?eid=81334752939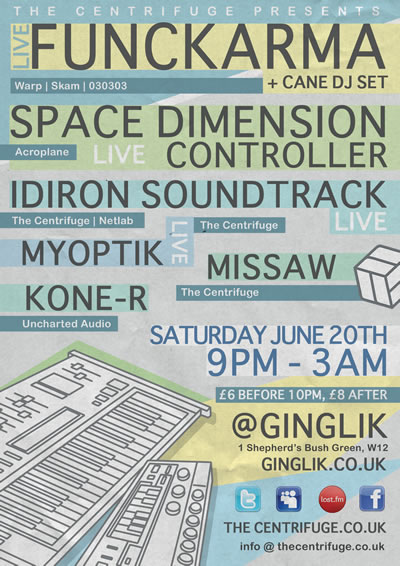 Sat 20th June @ Ginglik, 1 Shepherds Bush Green, London. W12 8PH.
Funckarma LIVE / Cane DJ Set (Warp, Skam, 030303)
Space Dimension Controller LIVE (Acroplane)
Idiron Soundtrack LIVE (The Centrifuge)
Myoptik LIVE (The Centrifuge)
missaw (The Centrifuge)
Kone-R (Uncharted Audio)
Full members free / P.A.Y.G. members free before 8pm, £6 before 10pm, £8 after / 9pm - 3am
The Centrifuge (
www.thecentrifuge.co.uk
) touches down in West London for their monthly residency at Ginglik with an all-aces draw of live electronica musics.
Funckarma LIVE & Cane DJ Set (Warp, Skam, 030303)
www.funckarma.com
Flying in from Holland are the mighty Funckarma, playing a rare London show to showcase their recent lush, bass-heavy sonic explorations as well as their killer back-catalogue of electronica, IDM, acid, electro and all else inbetween. Check the bonus rare DJ Set from their dark dancefloor electro moniker Cane.
Space Dimension Controller LIVE (Acroplane)
www.myspace.com/spacedimensioncontroller
Also worth shouting about is the debut London show of Belfast's Space Dimension Controller, a teenage prodigy who has been blowing away all and sundry with his excellent debut LP on the Acroplane netlabel.
Idiron Soundtrack LIVE (The Centrifuge)
www.myspace.com/idironsoundtrack
Idiron Soundtrack has been responsible for several full-on electro / snare-rush live sets at The Centrifuge's music events and the epic Manifest Sounds EP (CF009). Originally from Bristol and trained in violin and piano, elements from hyper jungle to squelchy acid are fused through an intricate and emotive approach toward composition that conjures goosebumps and rave mentalism in equal measure. He will be showcasing new material from his forthcoming EP ('turbo kiisu').
Myoptik LIVE (The Centrifuge)
www.myspace.com/myoptik
Celebrating the release of CF023 - "Allusion To Dance" EP at
www.thecentrifuge.co.uk
.
For 10 years myoptik has been a radio presenter, dj, music journalist, producer and event promoter based in not-so-sunny Leicester. Live performance is Myoptik's natural home with appearances in all sorts of places, under all sorts of musical guises and monikers at events such as the Sonic Arts Network, Summer Sundae, Monastery Of Sound and Delia Derbyshire's old home. Myoptik is also known for his vibrant Leicester based PVC club nights and his ping-discs imprint both of which pioneered his trademark live Funkatronix sound.
He has worked with the likes of BJ Cole, Chin Chin, I-mitri, Phaelah and Normal Position. On his own his musical demeanor tends towards a wild maelstrom of gutural bleep-funk and emotive soundscapes, accompanied by a glass of rum..
missaw (The Centrifuge)
www.missaw.com
missaw is The Centrifuge's label curator & resident remixer, creating electronic concoctions for the body and the mind.
Kone-r
www.unchartedaudio.com
Kone-r is the man behind the Uncharted Audio record label, which has introduced the likes of Cursor Miner, LJ Kruzer, Kings Have Long Arms and plenty of other weird and wonderful sonic tomfoolery to the world. Manning the turntables since 1992 when he discovered the joy of warehouse raves, the spirit of that era lives on in his sets today, with a liberal sprinkling of ambience, techno, breakbeats and plenty of low frequency oscillations. Despite the length of time he's spent in the booth, he maintains a cutting edge - you're as likely to hear him drop fresh dub plates by up and coming acts alongside the latest cuts from Berlin to Detroit as you are to hear vintage rave, classic disco and timeless electro. What's more, every Kone-R set is expertly mixed entirely on vinyl to preserve audio and artistic integrity - just like in the good old days.
"...a dexterity few DJ's can harness" (One Week To Live)
More info online:
http://www.TheCentrifuge.co.uk
http://www.myspace.com/centrifugeuk
http://www.facebook.com/group.php?gid=4077312718