London[27/05] Paul Blackford and Coded Soul get InteraKtive in the East End!
---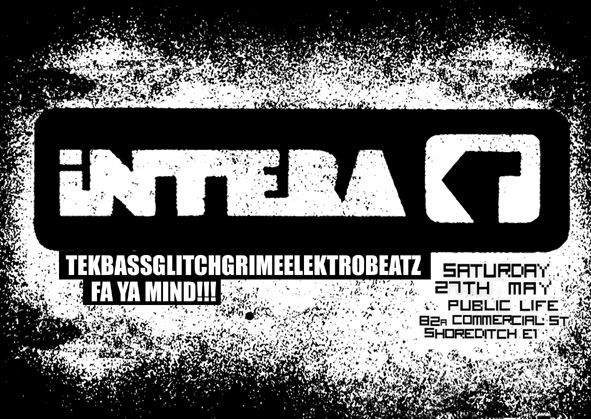 It's that time of the month again!
Brace yourself for the next installment of...
Neck Snappin' Beats!!!
This month we've got Paul Blackford coming down to wreak havoc amongst our legion of battle hardened electro nutters with his blistering new live set. Promoting "1992" his latest release on Wide recordings and having previously released on Baselogic and EDMX's label Breakin' to name a few, seize upon this rare oppertunity to witness Blackford's unique brand of hifi/lofi booty inspired electroid shizznizz!




Guest Dj support comes from "Cruise Control" head honcho Coded Soul. Having been immersed in the London underground for many years Coded Soul earned his stripes playing regularly at the legendary Haywire parties and helping to run the equally prestigeous Bi-wire record shop. Effortlessly blending varied styles from minimal Berlin to lush Detroit via the Hague bunkers Coded Soul is a dancefloor technician to be reckoned with.




The Flint Kids (gaining in notoriety) will once again be throwing down a set of the leathelist tweaked out acid, cut up broken beats and banging bass in a live and direct stylee.




Grievous G and the Brzzzmaster will be bringing up the rear as they attempt to blow the bass bins, mash up the mixer and anihilate the needles as they whip the crowd up into a spazztronic frenzy of bog rockin' beats.




Get down to Public Life to witness the InteraKt crew transform the East End's premier electro super-club into a futuristic dance arena!!! Boasting a mind-boggling capacity of about a hundred and fifty, rubbish loos and a big ol' soundsystem that only blows up occasionaly... this is one electro party you cannot afford to miss!!!




Eye popping visuals supplied by the internationally renound Dave & John.




Make sure you get down early... had to start locking people out after one o'clock last month!




p.s. IneraKt summer birthday spectacular in the pipeline... keep yer lugs to the ground.